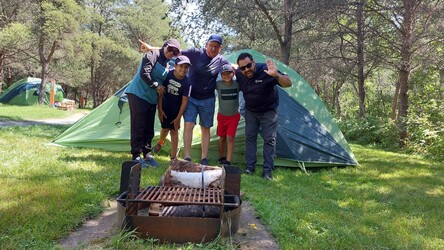 Organizational Goals
Mission
Provide inclusive, protected natural and cultural destinations that inspire wellness, enjoyment and education for all.
Vision
All people are stewards of New Brunswick permanently protected Natural and Cultural destinations.
Parks NB Initiatives
Environmental Initiatives in New Brunswick Provincial Parks
To align with the organizational goals Parks New Brunswick is dedicated to protect, maintain, and prioritize the environment. This is further demonstrated by the following initiatives.
Parks NB has partnered with Replant.Ca Environmental to plant trees and raise awareness of the impacts of climate change and deforestation in multiple Provincial Parks. Together, we have planted in excess of 250,000 tree seedlings since 2021 and are eager to expand on this initiative in the coming years.
Province of New Brunswick – Natural Resources and Energy Development
Parks NB has supported Department of Natural Resources and Energy Development Nature Legacy Program to permanently protect 10% of New Brunswick's crownlands and waterways.
On 13 December 2021, the Province achieved goal of protecting 10 per cent of land and freshwater and has committed to "a new and even more ambitious nature protection goal by 2024"
Royal Astronomy Society of Canada (RASC)
Founded in 1868, The Royal Astronomical Society of Canada (RASC) is Canada's leading astronomy organization bringing together over 4,200 enthusiastic amateurs, educators and professionals. As a charitable organization, the RASC is devoted to advancing astronomy and supporting local programs for public education and outreach - promoting science literacy and astronomy.
Through collaboration with RASC, Parks NB was proud to welcome Mount Carleton Provincial Park as the 12th Dark Sky Preserve in Canada. This Dark Sky Preserve is an area designated by the RASC that controls light pollution and offers public observing sites for quality night sky viewing.
Parks NB has partnered with the following educational institutions:
NBCC
Queen's University
Outreach Initiatives
Learn to Camp initiative:
Since the summer of 2022 Parks NB has been offering a Learn to Camp program that teaches first time campers the following skills:
Kitchen Set-Up, Safety & Hygiene
Cooking in the Outdoors
Portable Stove Use
Safe Drinking Water
Menu Planning
Food Preparation & Storage
Leave No Trace Camping
Environmental Respect
Weather Preparation
Camping Safety
Camp Site Selection & Set-Up
Gear & Clothing